An integrator is a strategic thinker who can help you optimize your business and simplify your processes.
If you've got the vision but struggle to make it reality, a fractional integrator like Lloyd Thompson from virtualdoo.com may be the key. Discover more in this episode of SuperFastBusiness.
Podcast: Download (Duration: 29:32 — 27.2MB)
Get Notified Of Future Episodes Apple Podcasts | Google Podcasts | Spotify | Amazon Music | Android | Blubrry | Gaana | TuneIn | Deezer | Anghami | RSS | More
Interview topics:
00:55 – It started in the surf… From surf buddy to liberator – this is how James met Lloyd.
03:04 – Mondays just got better. Starting the workweek is no longer a pain.
05:30 – Exactly what does Lloyd do? This is how an integrator makes a living.
08:48 – What hiring a fractional integrator involves. It works like this…
12:31 – When you're the cleanup person. How an integrator puts things to rights.
14:22 – The most surprising things about small businesses. How do they compare to the big guys?
17:15 – Kanban, for those who don't know it. A simple but effective business system explained.
18:50 – When they already have a system… Do you adapt, or change?
21:09 – How do meetings work? When meetings are unavoidable…
22:47 – What Lloyd does really well. These are the superpowers of an integrator.
26:17 – More to look forward to. It's not the last you'll see of our guest.
Optimize your online business with help from James
James met this episode's guest while seeking new waves. Lloyd Thompson's Instagram account featured regular snapshots of the area James was interested in. When they one day came across each other in the surf, the two became buddies.
Lloyd was then working for a large organization, handling big projects and working with remote teams – highly organized, complex, difficult stuff. And he hated Mondays.
That was then. Till Lloyd met James, he thought he hadn't much choice in his career. But James saw possibility in his skills. A huge number of James's clients were visionary types, needing someone organized to get their projects done. So he floated the idea to Lloyd of being an integrator.
Mondays just got better
The week starts out very differently now for Lloyd. Most of his clients are US-based, so Monday is their Sunday. This call was recorded on a Monday, and he had time just before to go for a surf. He now also works from home, and can work from anywhere that has internet.
James loves the transformation. Lloyd has called him James the Liberator, which made him smile.
Since striking out on his own, Lloyd has acquired a team, another great transformation. And as his business grows, he's learning more about his clients, which is what he and James will talk about – what trends he's seen, what sort of clients he get results for, and what exactly results look like for those clients.
They'll also talk about the skills Lloyd brings to his work, like Scrums and Kanbans, and how they can be applied to small business.
If you want to check out Lloyd's service, his website is virtualdoo.com. You'll see there what he's put together and how it works.
But first off, what is a fractional integrator?
Exactly what does Lloyd do?
An integrator, says Lloyd, will oversee your projects, your daily operations; they'll make sure your trains run on time. They can be a proxy for the founder or the chief operating officer. They will handle team management. And they will continually identify ways to improve processes.
But they will typically be a permanent member of staff, like a COO. They'd expect to be quite well remunerated. And they would want a stake in your business, generally. That's the most obvious downside.
This is where a fractional integrator service comes in. They will do everything an integrator does, but on a fractional basis. They will take care of your clients, and they will take care of other clients, on a fractional basis. This lets you have someone operate your business at a reduced cost, without having to hire someone who might cost too much or want equity in your business.
Depending on scope, you can typically engage a fractional integrator for 4K to 8K USD per month.
That's good to know, says James. He works with lots of businesses in the six to seven-figure revenue region, for whom the price of a COO or general manager – $100,000 to $180,000 a year – would be too heavy.
Then there are businesses in the seven to eight-figure region that have a lot of moving parts, all the roles filled, project management tools, and the founder in a frenzy trying to keep abreast of things in a constantly changing industry. It's hard to find that key person who will come in and fix it.
Businesses like this can just hire VirtualDOO. They'll come in and assess things, and the founder can tell them what they're trying to achieve.
James often hears from business owners that their team doesn't know what to do. They can't translate the vision; they're distracted, or need chasing up, or don't know how to prioritize. That's what VirtualDOO fixes, by putting in a system.
What hiring a fractional integrator involves
So say someone takes on a fractional integrator. What does that look like in terms of briefing, the kind of tools or systems that they'll need, and how the integrator actually interacts with their team?
Lloyd's customers are typically online businesses, so their focus is often different from that of a large corporation. Instead of large-scale project plans, they want simple planning techniques. They want predictability, and they want their team focused on the right things.
The first thing Lloyd will do is get to know the team and understand who's responsible for what. Establishing this clearly, which one person does what, is important, because if two people are accountable for something, nobody is. If it's not documented, Lloyd works with the team to figure it out.
From there on, it's understanding the rules of engagement. How are decisions made? Is there a sign-off process? And how do they prevent disagreements around things?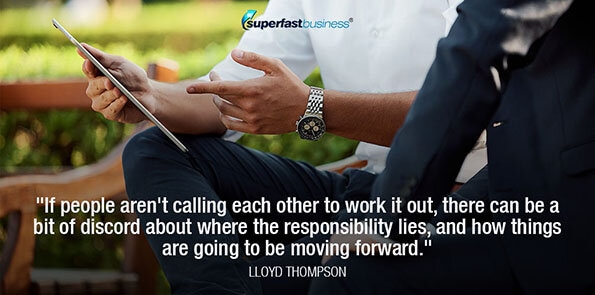 An important part of this is how the team will engage with each other. If it's unclear which party owns a role or responsibility, Lloyd recommends people talk to each other and work it out. And it comes up quite a lot, he says, because if people aren't calling each other to work it out, there can be a bit of discord about where the responsibility lies, and how things are going to be moving forward.
"Sometimes the business gets bigger and more complicated than the owner's ideal skill set."
CLICK TO TWEET
It can be a bit unstructured at first, because some entrepreneurs dish out tasks without waiting for a project to be defined and laid out and properly sequenced. And sometimes they're just not equipped to be organizers. Sometimes the business gets bigger and more complicated than their ideal skill set. Ideally, they should focus on the visionary part and get help with the rest of it.
When you're the cleanup person
Can a business engage Lloyd to systematize and get things working properly, then hire someone to take over after the operations management?
Absolutely, says Lloyd. If the visionary wants to bring in someone to ultimately take over whatever responsibility, they're there to make it happen.
That's nice, says James. Because Lloyd and his team have multiple clients, they're not desperate to hook someone into a long-term contract. And everything they do is completely transparent and visible to the client.
Important to eventually bringing someone else in, says Lloyd, is putting systems in place and documenting everything. It's a large part of what they do, working with the client's team to make sure that information is written down.
The most surprising things about small businesses
Coming from a huge enterprise, has anything surprised Lloyd about the world of small businesses?
There have been positives and negatives, says Lloyd. Positive: it's amazing how quickly things move. Need funding? This is what needs to happen. Approved. Let's get it done.
The downside, probably, is the lack of structure when you come in, whereas in a corporation the amount of structure can be almost too slow.
Kanban, for those who don't know it
One of the things Lloyd and his team have to work out is the kind of methodology that will suit a business. Is it Kanban or Scrum? What's going to fit the operation? Is it more repetitive and something that happens a lot? Or is it going to be something in sprints, regular size, prioritize backlogs, that kind of thing? It's about balancing needs.
"Methodology is about balancing needs."
CLICK TO TWEET
One consideration, says James, is the tools available to you. Another is to make sure you're not just forcing your one way, like a hammer. It's like surfboards, he says. You'd use one kind of board for big waves, and another for small sloppy conditions.
He's used Kanban, back when he had an SEO business and a 65-person team. It was simple but effective. Many people listening might not know what it means. Can Lloyd explain it?
Kanban, says Lloyd, is about having a number of labeled-out steps to take a task from beginning to finish. Say you're creating a new customer workflow. You might request consultation first, then do a follow-up. Then create a proposal. There'd be reviewing that proposal, sending it, creating the contract, and then it might be won, lost or followed up. All of that would be stepped into Kanban. And it would be predictable. They'd know how long each step would typically take.
And then they, as a company, at VirtualDOO, would look at that Kanban and try to identify the slowest piece, and speed that up to make sure that things constantly improve.
When they already have a system…
Now some businesses, says James, already have a system. What then? Do you tell them they can't use it? Do you adapt? Or do you suggest something better?
Lloyd says they have a look and see what they've got. A must-have is some kind of task-tracking tool; it doesn't matter what software. There's only a few things you actually need, he says, to get things working effectively. You need lists, so you can prioritize. And you need boards that you can work through.
He's come across ClickUp and Jira, but it can be Asana. He doesn't really care, as long as they have something. And of course they can make recommendations.
They'd want some kind of group chat functionality, like Slack. But you'd expect any online business to have that.
And they'd need a way to document processes and share documents, what they call a Wiki. It might be Confluence, or Motion, something like that.
Video conferencing, too, and some way of general note-taking. It doesn't matter what, as long as it's usable.
How do meetings work?
James knows they facilitate calls with clients, teams, etc. How does that work?
They typically use something like Calendly, so they can schedule a time that suits everyone. They find the time zones that overlap and book the meetings. They run the meetings over Zoom, and record them if the info will be reusable and helpful.
They make sure someone takes notes, they have someone to close the meeting, and they have someone responsible for the parking lot – parking the topics they'll want to talk about later.
Meetings fascinate James. He knows some visionaries pack their calendar with meetings. He himself holds one meeting a week with his team that lasts 10 to 15 minutes. A lot of things people meet about can likely be covered in asynchronous communication, a Loom video, a memo, or just deleted off the schedule, because it's not an 80:20 activity.
What Lloyd does really well
If someone was taking wasteful measures in their business, would Lloyd point it out, or would he just be polite?
He'd absolutely point it out, says Lloyd.
He would, says James. He knows Lloyd well. He's so fastidious that he will speak out about something he doesn't agree with, and that's rare. It's a great skill for what he does.
That would normally be called pedantic, says Lloyd.
"We're in the great resignation period."
CLICK TO TWEET
James is being polite. He does recall when he was solving Lloyd's problem, which was how to avoid going back to the office. We're in the great resignation period, according to the United States. Eighty percent of people don't want to go back to their job, and Lloyd was one of them.
James realized Lloyd had the follow-up that most of his clients were missing. He had the ability to move projects and to see where they were stuck, and to do all the structured, detailed work. Fractional integrator – that's what Lloyd should be doing.
Everyone James has referred Lloyd to, clients in diverse markets, have only good things to say – greatest thing I've ever done, saved my life, makes my business a joy, so bloody good.
More to look forward to
James wants his guest back to talk more in depth on the topic. Next time he'd like to talk about Scrum, because he's not quite certain what it means, but thinks people with more complicated businesses could benefit from it. And he'd like to discuss the different roles contained in being a fractional integrator, and the types of people Lloyd has on his team.
What would Lloyd want a listener to do after this episode?
Tell him what they really want, says Lloyd. Come up with a clear vision: what does good look like for them? As James would say, if you wave your magic wand, what does it look like? That would help Lloyd get them the wins they want.
If you're listening to this, and your business is experiencing fantastic growth, but you don't know how to contain it, get in touch with Lloyd at virtualdoo.com.
Access the world-class business resources inside JamesSchramko membership
Grab your
FREE copy of Work Less, Make More
! James went from working a full-time job to running a profitable business, having the freedom to travel, surf and spend time with family, and in his book you will find everything you need to know about how you can actualize the life you want, so you too can finally work less, and make more!