Among all the business success tips out there, the most important may be to have the right mindset.
eBusiness Institute
's
Matt Raad
discusses this underacknowledged factor with James and breaks it down into three main traits that he believes determines people's success - not just in business, but in life.
Podcast: Download (Duration: 40:49 — 41.1MB)
Get Notified Of Future Episodes Apple Podcasts | Google Podcasts | Spotify | Amazon Music | Android | Blubrry | Gaana | TuneIn | Deezer | Anghami | RSS | More
In the podcast:
Like anything in life, business success comes down to something people don't talk enough about. [2:00]
Humility is not a trait many associate with entrepreneurs, but to succeed, it can help to be more humble, as Matt and James will tell you. [05:19]
Sometimes you have to park whatever knowledge you think you have, and approach things with a beginner's mindset. [08:24]
Do you have a vision strong enough to sustain your efforts to succeed? [17:19]
You can get some serious inspiration from Arnie for how to succeed. Matt did. [18:47]
Visualization is not a new concept for James. This is how he learned it and what it's done for him. [21:06]
Sometimes what you need to see is another person who's done what you want. [26:32]
Not everything the big guys do is worth emulating. Pick and choose wisely. [31:44]
Winners in business have a long-term perspective. Are you looking to stay the course? [34:07]
Cultivate the mindset you need for business success with James's help
As a business consultant, James has an objective view of many businesses, one of them that of Matt and Liz Raad. At eBusiness Institute, Matt and Liz help people buy, develop and monetize websites, turning them into profitable portfolios.
The couple have a large number of students, many referred by James, and the bulk of them are doing well in the Raads' program. What James wants to cover in this episode, however, is just what sets these successes apart from the students who don't get traction.
The key element that is mindset
How is it that some are able to generate six or seven-figure content site incomes from scratch, while others don't connect the dots as easily?
This is something he and Liz have pondered themselves, says Matt, appearing solo on this occasion. They teach their students all the same skills, just as James does. And they have total beginners now sitting on million-dollar portfolios, while more intermediate clients have yet to fare as well. What it appears to come down to, like anything in life, is mindset, Matt says. It's all about the thought behind the action. And there are three main components of mindset he considers important.
Why it pays dividends to be more humble
One of the big things Matt and Liz talked about is humility. The students who do well actually listen to them as coaches, much like the Raads listened to James at the start of their own online journey. They listened to James, did what he said, and it worked. It's the same with their clients.
James loves it. What impressed him, working with Matt and Liz, was how knowledgeable and experienced and credible they were in what they did, yet they parked all of that to listen to what he had to say.
He can so relate, because for a number of weeks he's been himself enrolled in a live cohort class where the instructors are 25 and 31 years old. And he was teaching the same thing back in 2009, in his live events.
Approaching things with a beginner's mindset
James is showing up to these classes with an open mind and a beginner's mindset, looking to learn from young, hip, savvy people in the market and not overwrite their expertise with what he already knows.
The challenge, he says is when you think you already know a subject. It was easier when he learned to surf, because he knew nothing. It was easy to be a beginner.
And he sees humility in his own students, people with seven, eight, even nine-figure businesses who are unafraid to ask the most basic questions.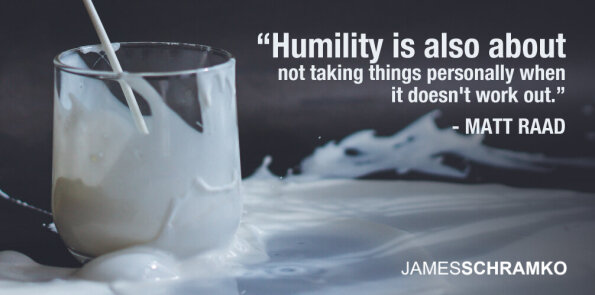 James has nailed it there, says Matt – a beginner mindset. It makes all the difference, like a clean slate. He loves seeing clients who are willing to learn. And it means they take action, too, which is a must. But also, online business is not always easy. With everything that can go right, a lot can also go wrong. And so humility is also about not taking things personally when it doesn't work out.
What started with a failed eBook
When Liz first started online, says Matt, she started an eBook. Wrote it herself, tried to tweak it, and didn't sell a single copy.
But Liz didn't take it personally. She continued to work on it, and with the encouragement of a mentor made it to where it broke even. That spurred her on, and she quickly had a site on her hands that made five grand a month net profit. The rest is history. Had she not hung in there, she and Matt might not be where they are today.
How strong is your vision?
The second trait of successful students is the number one thing that's made a difference in Matt's life, as well as Liz's.
"You've got to get really clear about what you want, not just with your websites, but in life." – Matt Raad
CLICK TO TWEET
Matt came from very humble beginnings and has been lucky to do well in life because of a strong vision. From hanging out with very successful business people, he has to say it comes down to having a strong, clear personal vision of what you want. Not just with websites, but with life.
It might sound slightly off topic, says Matt, but he and Liz have a successful marriage because of a shared vision. They work on it together virtually 24/7. It's a vision for their life, their family, even their kids. And their kids and all their students know their personal vision.
Inspired by an Austrian bodybuilder
At 17, Matt left the farm he grew up on and moved to the city. It was a catalyst for him, because working out at the gym, he'd see pictures of Arnold Schwarzenegger. Matt read his story, found out he came to America with nothing but a strong vision that he talked about everywhere.
And just look at what Arnold's accomplished in his life, says Matt. Arnie would say, every year he'd set 10 to 12 goals, then go out and achieve them.
Matt and Liz are like that, says Matt, but with a sense of fun. The fun is part of their vision. And he sees it in their best students – they have a vision. They know what they want out of building websites. They want to quit full-time jobs, to earn more and work less.
And what the Raads do, what Matt suggests to anyone listening, is to craft that vision. You're not going to get a vision within five minutes, you've got to sculpt it. And that, in his opinion, is probably the number one determinant of success in life.
What got James onto visualization
James gets goosebumps. Vision is huge. Back when he was number one salesperson in Australia for BMW, a customer bought three cars from him. He also gave James a box of cassettes. One was of Dr. Maxwell Maltz of Psycho Cybernetics fame, who popularized visualization.
Since then, James has actively used visualization as part of his life. It was his dream one day to live in a nice house near the beach, and to work with people he wanted to work with, and to have a great life. And it's come true. It can take time, but he is adamant that visualization works.
In James's second year surfing, he bought a big-wave gun, a surfboard meant for eight to 12-foot waves. People at the surf shop laughed. But he stowed the board in his garage, and last year, seven years after he'd bought it, he took it out in the winter swell and rode some 10-foot waves. He envisioned that moment, and built to it, same as he did his first barrel.
The strategy of finding role models
Matt wants to give listeners his number one technique to help get that strong vision. All he needs, he says, is to meet or see one person that's done what he wants, and that's enough for him to know it can be done. That's his vision.
Matt and Liz are passionate about sharing success stories, because making money online is so unusual for most people, you need role models of success. So look for people like James or their students, look at the interviews on podcasts like James's, Matt suggests.
Since moving to Sydney at 18, Matt was on the lookout for millionaire business people. One of his key strategies was to get around people he could implement into his personal vision, by reading their books, or listening to interviews with them, or getting to know them personally. And out of that, he's created his own personal life vision.
This strong vision is not just around finances but health, too. So Matt now hangs around guys in their 60 who are super fit, some of them ex athletes as well as very successful entrepreneurs.
In his rand Liz's relationship, they look at couples who have been married for decades, and bring ideas into their own vision of marriage.
"Being surrounded by people will definitely influence your benchmark." – James Schramko
CLICK TO TWEET
Being surrounded by people will definitely influence your benchmark, says James. So you do need to expose yourself to the right environment and the right people.
When to pick and choose
He does have a caveat. For every success or Instagram-perfect life you see, there's bound to be flaws. He's met mentors and people he revered, and seen their shortcomings. So pick and choose the bits you want, and leave the bits you don't, is his advice.
He and Liz teach that too, says Matt. About 50 percent of the ultra-high net worth or very high net worths they met had successful marriages. They hung out with both halves and picked and chose for their own personal life vision.
They'd meet their kids and ask what they were like, about their upbringing, and visualized how they wanted their kids to be. Thirty years later, the Raads' kids are just as they envisioned.
"Success goes beyond just money. It's health, it's family, it's relationships." – James Schramko
CLICK TO TWEET
James thinks what Matt is saying is that you can create your own version of what success means. And success goes beyond just money. It's health, it's family, it's relationships.
Keeping your eye on the long-term goal
That leads straight into the third attribute of success, something Matt knows James will agree with – having that long-term perspective.
It's just turning up everyday, having consistency. Or as Arnold Schwarzenegger would put it, reps, reps, reps. And if you fail, going back to humility, you put it down as a rep that didn't work. And go back to reps, reps, reps.
For someone wanting to build a portfolio of money-making websites, you definitely need a long-term perspective, says Matt. You can occasionally buy one and be a winner. But looking at his students, it's the humble ones with vision and long-term consistency that experience the most success.
"Speed isn't everything people make it out to be." – James Schramko
CLICK TO TWEET
One of James's best mentors taught him that life is a marathon, not a sprint. And one of the reasons James switched his brand from SuperFastBusiness to his personal brand, is he doesn't think speed is everything that people make it out to be. It doesn't sound great, but he would say super sustainable business would be the goal these days.
People who focus on the short term often end up in ruin. And James loves the saying, a candle that burns twice as bright lasts half as long. So if you want to set yourself up for success in a business perspective, have a longer timeframe, be more realistic about how long it's going to take.
And he will say from personal experience, 10 years from now, just about every single aspect of your life could be completely different to what it is now. Ten years ago, he wasn't surfing. And nothing has changed his life as much as that. So 10 years is a very realistic timeframe to have anything you want out of life.
Matt's business model, James thinks, is a slow-burn model that over time leads to success. If you're interested in either building or buying a portfolio of cash-generating websites, that's what he and Liz do. You can check them out at eBusiness Institute. Their free masterclass could change your life if you'd like an alternative way of generating income.
Join the community of thriving business owners inside the James Schramko membership
Liked the show? Leave us a review on iTunes
Grab your
FREE copy of Work Less, Make More
! James went from working a full-time job to running a profitable business, having the freedom to travel, surf and spend time with family, and in his book you will find everything you need to know about how you can actualize the life you want, so you too can finally work less, and make more!