Managing business relationships can be tricky.
Mark Joyner
is a pro in communication, business and otherwise, and knows this well. In this podcast episode he and James highlight the things that make interaction difficult and how to overcome them.
Podcast: Download (Duration: 37:09 — 34.0MB)
Get Notified Of Future Episodes Apple Podcasts | Google Podcasts | Spotify | Amazon Music | Android | Blubrry | Gaana | TuneIn | Deezer | Anghami | RSS | More
In the episode:
The turmoil of the past couple of years makes this episode's topic a timely one. [01:40]
You're the one missing out when you disrespect. [03:59]
There are things people need to know that the schools just aren't teaching. [06:41]
History has become a weapon to divide the world. [12:50]
With different people saying different things, what's real? [15:47]
When what used to be taboo is now acceptable…. [16:53]
In a polarized world, good communication is more important than ever. [19:49]
Shortcuts are convenient, but do they cause more harm than good? [23:19]
Even Mark had his biases to overcome. [26:46]
What things matter to you, and when should you put them aside? [31:43]
Some close relationships are difficult, but the effort put into preserving them is well worth it. [33:33]
Manage your business to enhance your life with James's help
Events in the past few years have divided people in various ways. James has seen it as a coach: people are worn out, tired, confused, uncertain about the future, and getting engaged in toxic fights and disputes. This makes today's topic timely.
Our return guest from a couple of episodes ago, Mark Joyner, has a background in business, in the military, in intelligence, and in communication, which makes him eminently qualified to speak on the topic.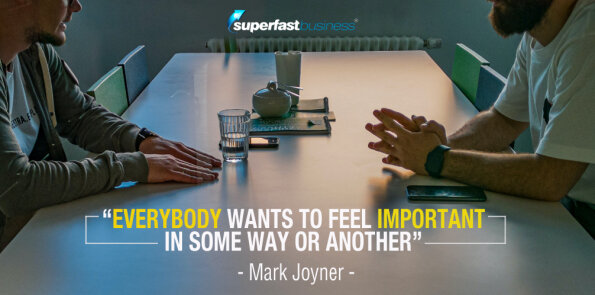 The thing every person wants
World happenings aside, there's a very basic reason we should manage relationships, says Mark. Nobody likes to feel disrespected. Everybody wants to feel important in some way or another.
Mark went through a disrespectful phase himself, as a brash young digital marketer, something he grew out of. He now tries to get along with almost everyone. He loves people, he says. People are amazing.
When someone does get under his skin, he thinks, what's going on in that person? Why are they acting that way? And trying to see things that way, through their perspective, makes them easier to understand, easier to like.
One thing he feels we are missing in general, and that we should teach to kids, is a respect for our elders. It's a problem as old as Socrates. And when we disrespect our elders, he says, we are cutting ourselves off from a potential source of wisdom.
It's not just elders. When we come at people in general with an I'm right, you're wrong sort of attitude, we prevent ourselves from gaining wisdom, and from potentially having some rich friendships.
Where education generally falls short
A much larger topic, says Mark, is the foundational education that schools lack today – we are not teaching children epistemology. Epistemology is the study of knowledge. How do we know what we know?
We need to get an education in logic, critical thinking, logical fallacies, media studies, Mark says, to know exactly how manipulated the media is.
That sort of education, couched in a stance of respect for other people, would make for good communication, because you don't have good communication without rapport and without respect.
And it's important to have empathy, says James. It's a skill that helped him a lot in his sales career – to feel people's problems and concerns as if they were his, and then to help them solve it in a way that they could resonate with.
Empathy is rare, he says, because most people have their own agenda. And they're so busy pushing that agenda that they're not listening, which brings to mind a popular episode, Just Listen. Another very useful skill.
"Age equals wisdom."
CLICK TO TWEET
Referring back to what Mark said about elders, James says he had a mentor who said, age equals wisdom. And it made sense to him because he spent a lot of time with his grandparents, who passed on to him some incredible lessons.
"The winners write the history books."
CLICK TO TWEET
History didn't use to interest James till a few years ago. Helping his kids with the subject in school, he's had a new awareness of subjects like the history of the indigenous Australians, and realized that to some extent, the winners write the history books.
That makes it important for us, especially at this time, to study what happened in the past, because things do tend to repeat themselves.
If you could teach one subject in school, says James, logical fallacies would have to be right up there. It's the reason many people make poor decisions, especially in difficult conversation. They're so busy attacking and not listening that they don't feel the other person. And they never actually win, that way.
The things that separate us
What James has said about history, says Mark, is a subset of epistemology, in a sense. We know media is often used to persuade rather than inform. And for various reasons, governments, interest groups, corporations have wanted to persuade the way people see the world for a very long time. One of the ways that this occurs is through history.
History now, says Mark, is being used as a weapon to divide all of us. And he cautions people, if some of the things he says trigger them, think clearly about it, because they have emotional attachment to those words.
When focusing on class struggle didn't achieve the results Marx wanted, Mark says, the Neo Marxists of the Frankfurt School decided to change things up. They decided to stratify the world in as many ways as possible.
This was the root of critical theory, which is, basically, be critical of anything that you can, and find distinctions to separate people. So now we have men against women, LGBTQ versus straight people, colored people against white. And history becomes a weapon in this.
Some people say, if you don't want critical race theory taught, you don't want history taught. But what the critics of critical history are saying is, you can talk about the evils of our countries all you want. We want people to get along. We don't want to stratify society, we want to unify society.
So who can you believe?
So history is taught by different people, for different reasons, as weapons.
"History is taught by different people, for different reasons, as weapons."
CLICK TO TWEET
If you were to read Korean textbooks about the Japanese occupation of Korea, and then read Japanese textbooks on the same topic, says Mark, you would get very, very different stories.
As a member of military intelligence in Korea, Mark was sympathetic to the Korean interpretation and thought the Japanese were lying. But looking at it now, he can't really say which version is accurate. And it's people's inability to unpack such things, he says, that cause trouble.
The thing we couldn't talk about that we now can
Then there's an interesting recent example. When COVID first broke out, there were theories that it had leaked from a lab in Wuhan, which studied that very kind of virus. Seemingly a very rational hypothesis. Yet 30 intelligence community professionals signed a document saying it was not possible. Mark considers this bogus from the get go.
A year and a half later, it's suddenly acceptable to talk about a possible lab leak. What happened?
One logical fallacy is an appeal to authority. How could 30 members of the intelligence community, supposedly authorities, sign such a questionable document? And how could the media be complicit, telling people they were bad for believing something so rational?
Something like that, says Mark, makes us question history, makes us question the media, makes us question the government. It makes us question our own ability to discover what is rational and what's not.
When oppositely polarized people meet…
When people polarized by different media meet, they're bound to have a hard time communicating, because part of polarization is demonizing the other side.
That's why James advocates what a mentor of his taught him: Question everything. It's important to be able to to say, I don't know. Then we can step back from a position and be open-minded enough to change our point of view based on new criteria or being able to see what the other person sees. And that way, we can reclaim ourselves from whoever's trying to inject into us and program us the way they want.
That's the start, says Mark. The second part would be what they talked about in their first conversation. Mark has a philosophical framework that he came up with, called the Utilitarian Model Flexibility. It's the notion, he says, that if we can't know what the ultimate truth is, we do have to make judgments and decisions about things to be able to function in the world.
We don't have the wetware that's capable of understanding the totality of the universe as it is, we can only understand and ponder a very limited section of it. We have to make decisions. So therefore, we need to use shortcuts.
And we need to say, Well, I'm looking at it this way now. It's a lens I'm putting on for this moment for a particular purpose. And it might serve this particular purpose quite well. But when other occasions arise, I may need to take this lens off and put on another one.
"You don't have to marry the current hypothesis that you have about the way things are."
CLICK TO TWEET
And while we question things, says Mark, we should also become aware of the fact that we don't have to marry the current hypothesis we have about the way things are.
A couple of shortcuts people use
Mark mentioned shortcuts, says James. And when it comes to managing difficult relationships, James thinks, for some people, shortcuts are harmful to the ability to move forward or to reconcile things.
Mark agrees. And, he says, we're not aware of the shortcuts that we're using.
Could he label a couple, asks James?
Sure. Says Mark, one of the most common is obedience to authority. An appeal to authority is considered a logical fallacy. But obedience to authority, if you look at it through a slightly different lens, is a very powerful persuasion tool.
It's interesting that many of the shortcuts we use are inherently fallacious. Fallacious, but sometimes useful. If you have a problem with plumbing, for instance, you'd call a plumber, which is appeal to authority, and a sensible thing to do.
Now the trouble is, some authorities are genuine, while some are either fake, or corrupted.
One other shortcut Mark brings up is conforming to the group, again also a logical fallacy. If everyone jumped off a cliff, would you do the same?
Some eye-openers for Mark
Mark offers an example of an unhealthy fallacy he once subscribed to. He was raised in California, where there was a very strong anti-rural bias, so strong that anyone who was a Republican, redneck, rural-living person in a flyover state was considered uneducated and very stupid.
Mark was working in a restaurant once, and was playing some chess. A country guy who also worked there came up and said he'd play the winner. Mark and his opponent exchanged looks. This country bumpkin? This will be fun.
Mark won, and the country boy sat down. He played Mark and beat him soundly. Mark couldn't accept it. They played three more games, and each time the country guy trounced Mark.
When Mark joined the military and met people from all over the US and its territories, he realized further how narrow and bigoted his worldview had been.
Does travel give a person global awareness, asks James?
That's interesting, says Mark. He has seen people travel and not gain that kind of awareness.
James's world certainly opened with his travels over the last 12 to 15 years. It's humbled him, he says, because he realizes how much he didn't know, and how he was living his own little world version.
A brief recap
So far James and Mark have discussed how a lot of division is engineered, putting many relationships in a precarious place.
Knowing that, you can decide to be more empathetic with others, to be more open-minded, to change our position, to draw wisdom from and to respect your elders who have navigated through more of life than you have.
We should also be aware of, and research, logical fallacies. James thinks there's an episode in that.
Perhaps, he says, we could question more about why things are happening. And when we're faced with a trigger, maybe we can look within ourselves and ask, Now, why does that make me so upset? What is causing that?
So how do we smooth over or decide whether to have a relationship with someone when things get tough? That's his last question to Mark.
Examining what's really important to you
A really good place to start, says Mark, would be asking yourself what's really important. Everybody thinks their view is the one that's best for humanity. But then why isn't it working with the human who's standing in front of them right now?
Wouldn't doing what's best for humanity mean doing your best to get along and understand the person right in front of you? Isn't everything else just kind of a manufactured fantasy in your mind?
Sure, you feel good about helping this group of people or that group. You want to defend this group of people, you identify with this group of people. What about the person in front of you? Isn't that the most important thing?
Robert Greene studied the rapper 50 Cent for a year to discover the secret of his business acumen. What it boiled down to was what 50 Cent called the hustler's eye, the ability to see reality as it actually is. How many of us can do that? Is it possible for us to see reality without coloring it, without everything that we're bringing to it, without the lenses we wear at all times?
The bonds that are worth preserving
Mark suggests we start there, and see the value in getting along with people. Especially family. When everything else is stripped away, your family is likely to be the thing that's still there. Nurture that, take care of that.
Yes, sometimes it's hard. Mark has had family members he's had serious problems with, that he took the time to mend. And it was so worth it. And friendships, too.
There are relationships Mark has never resolved, and may never, and that's fine, he says. But the ones he has repaired have paid enormous dividends. Some of the people he didn't value, because he thought the answers to everything were out there, were right there the whole time. Those were the really valuable relationships, and Mark discounted their value. He's glad he's changed that.
If you want more about Mark, his print book is Simpleology. It gives people that basic epistemological education Mark thinks we're missing, and hopefully helps open up perspectives so that people can create peace with others. There's also his software, Simpleology, which helps you get done in a couple of hours what normally takes you a full day or longer.
Be one of the thriving entrepreneurs inside SuperFastBusiness membership
Liked the show? Enjoy all the episodes by subscribing on iTunes
Grab your
FREE copy of Work Less, Make More
! James went from working a full-time job to running a profitable business, having the freedom to travel, surf and spend time with family, and in his book you will find everything you need to know about how you can actualize the life you want, so you too can finally work less, and make more!