If you're like a lot of people, you're running your business and life with elements you don't need.
There's a lot of benefit to be had by simply removing stuff, as Perry Marshall asserts in his latest book.
We're privileged to have him back on the show to talk about it. Tune in and be just seven steps away from better productivity, profit and quality of life.
Podcast: Download (Duration: 40:30 — 37.2MB)
Get Notified Of Future Episodes Apple Podcasts | Google Podcasts | Spotify | Amazon Music | Android | Stitcher | Blubrry | Gaana | TuneIn | Deezer | Anghami | RSS | More
Podcast topics:
01:40 – The Perry Marshall effect on James
04:19 – A very short but weighty book
10:12 – The former complexaholic fesses up
16:30 – Do you have your Renaissance Time?
19:46 – Two times the profit using the 80/20
26:52 – Make $1k an hour, at least one hour a day
30:06 – An irresistible product that's a joy to use
33:25 – Taking a page out of Koch's book
34:40 – Make your business impenetrable
35:38 – You need this kind of freedom
Achieve a business and life you enjoy with help from James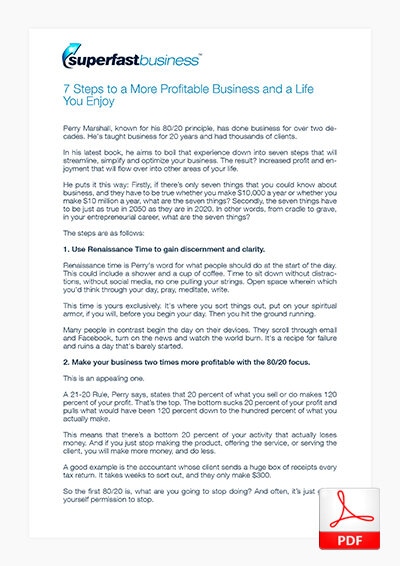 Perry Marshall is an industry icon, known for his 80/20 approach to business and marketing. He last appeared on the show in March 2014, and is back now to talk about his latest book, Detox, Declutter, Dominate: How to Excel by Elimination.
James holds up Perry as having been a huge influence in his business journey. He became aware of Perry's AdWords book when he still had a job. That long ago. It was loaned to him at his first ever internet conference, and as he puts it, flipped his world. Because of it, he started running paid ads in the Mercedes-Benz dealership that he was working at.
James recalls Perry's clean and simple, monochrome-colored website, the white papers and funnels to sell services. The site was, he said, the perfect model of what a website should look like to take someone from an inquiry through to a customer.
Perry's work with Glenn Livingston was the precursor to Ryan Levesque's ASK method. James followed it all, as well as his threads through to Koch and The Star Principle, which James still uses for making decisions on his business models.
James read another of Perry's books, Simplify, while floating in the Maldives. He credits it with many of the changes he made in his business.
The 80/20 principle is reflected in James's own book, Work Less Make More, where he devotes a whole chapter to his modified take, the 64/4. And Perry himself was kind enough to endorse the book.
A very short but weighty book
Perry Marshall's latest title, co-authored by Robert Skrob, is a surprisingly slim volume at 36 pages. How brave was it to publish such a short book, and what is the feedback?
The book, says Perry, started as a 50,000-word manuscript, about 150 pages. He sent it to Robert Skrob, who took it away and came back with an 80-percent lighter version, about 8,000 words. He'd eighty-twentied the 80/20 guy, and there was not a spare, wasted syllable in the finished product.
In addition to cutting down the book, Skrob produced graphics, illustrations, and charts to accompany the text. "Perry," he said, "This is your book. People are incredibly beleaguered, and overloaded, and fire hoses pointed at their mouths, and social media, and elections, and pandemics, and everything else. Like, this is it."
Robert said, "We need to figure out like, what is the absolute irreducible essence of planet Perry? What do you actually want your clients and your members to do and understand? You need to reduce it down to seven things."
It took them, says Perry, about two years to figure out what those seven things were. There was a tremendous amount of effort in coming up with something contained in 36 pages.
The finished book, he says, is really two things. Firstly, if there's only seven things that you could know about business, and they have to be true whether you make $10,000 a year or whether you make $10 million a year, what are the seven things? Secondly, the seven things have to be just as true in 2050 as they are in 2020. In other words, from cradle to grave, in your entrepreneurial career, what are the seven things?
Perry has taught business for 20 years. He's been doing business longer. He's been to every seminar and read who knows how many books. He's dealt with thousands of clients. This is the background behind the seven things. And, he says, he has Robert Skrob to thank for chiseling it down.
The feedback? People like it. Nobody has complained. Readers have actually been delighted, said they'd never seen a book like it. It almost looks like a workbook or a coloring book. But it's very serious.
Admittedly, the book doesn't fit the publishing mold. It would be a hard thing to pitch for a bookstore, which is why they self-published it.
The former complexaholic fesses up
A category-breaker, yes, but it's the road map, says Perry, to the life you want. The entrepreneur life is wonderful, but it can get excessive. The ideal reader of the book is the workaholic.
In the opening chapter, Confessions of a Complexaholic, Perry recalls how he made a business that was too complicated, had too many moving parts, too many employees, too many products, too many systems, too many ideas. And he was in love with all of them.
His brother, a president of the company, showed up on a cold February day to perform an intervention. They were together eight hours, and Perry wouldn't listen.
Three months later, he realized his brother was right. Things weren't improving, and he had a problem.
James can relate, having been classified before as someone who worked too much. It was only in the latter half of his online career that he got a handle on things, enabling him to write Work Less, Make More. It's interesting, he says, how we know we're taking on too much. We know we're too complicated.
But "…the entrepreneurial side of us can always see the good in everything, the positive; we're this eternal optimist on how good we could make things."
It takes guts to cut and delete and remove stuff. This year has been a big opportunity for a lot of people who aren't traveling for the first time in at least a decade. For the first time, they have the space or the routine to be able to actually look and introspect about what their environment is like.
"Most people have had cause to review their business model"
CLICK TO TWEET
Most people, James thinks, have had cause to review their business model. He has. He's come up with an entire new business to the side of the one he had, as a result of the changes in the market.
Perry uses the word "selah". In the Bible, it indicates a rest between verses, like a silent space between two musical pieces where you're supposed to contemplate what you just read. We're in a forced contemplation, he says, and there will be two kinds of people who come out of it.
One will have contemplated and reconsidered, stripped all their ideas down to the engine blocks and rebuilt them.
The other will have binged on Netflix, drank more, slept more, slid into a bunch of bad habits. They wake up, and have to go back to work, and are in worse shape than before.
Do you have your Renaissance Time?
Back on the topic of Perry's book, the first step he lists is using what he calls Renaissance time to gain discernment and clarity.
Renaissance time is his word for what people should do at the start of the day. Shower, have a cup of coffee, sit down, no distractions, no social media, nobody pulling on your strings. You think through your day, you pray, you meditate, you write, you have open space.
This time is exclusively for you, where you get sorted out, and you put on your spiritual armor if you will, before you begin your day, and then you hit the ground running.
This he contrasts to people who start the day on their devices with email and social media, Cheerios and CNN. It sets you up for failure, he says, switches on the cortisol and ruins your day before it's started.
Two times the profit using the 80/20
Step number two is an appealing one. Make your business two times more profitable with the 80/20 focus.
Perry explains by talking about elimination. There's this 21-20 Rule, he say, and it states that 20 percent of what you sell or what you do makes 120 percent of your profit. That's the top. The bottom sucks 20 percent of your profit and pulls what would have been 120 percent down to the hundred percent of what you actually make.
"There's a bottom 20 percent of your activity that actually loses money, and you are going backwards when you accept the check from the client.
"
CLICK TO TWEET
What that means is that there's a bottom 20 percent of your activity that actually loses money, and you are going backwards when you accept the check from the client.
So a percentage of your clients, a percentage of your products that you ship, a percentage of the services that you provide are a net negative. And if you just stopped making the product, stopped offering the service, stopped serving the client, you will make more money, and you will do less instantly.
Take the accountant whose client sends them a giant box of receipts come tax return. It takes them weeks to sort it out, and they only make $300. So the first 80/20 is, what are you going to stop doing? And mostly, it's just giving yourself permission to stop.
"Not all the time you spend doing things is equal."
CLICK TO TWEET
Make $1k an hour, at least one hour a day
Step three is earn $1,000 an hour, at least one hour a day, with 80/20 time.
Consider Helen, a $15-an-hour receptionist at a dentist's office. Someone phones in, and they need $10,000 of dental reconstruction, and Helen puts them on hold for two minutes. She picks up two minutes later, and they're gone, because they didn't like being on hold. Helen just lost $10,000 in two minutes. How many dollars an hour is that? It's $300,000 an hour. Helen lost $300,000 of revenue per hour, in two minutes.
So whatever time it takes to make sure that Helen never does that, that the systems are in place, that the phone calls get answered, nobody gets put on hold and the person gets sent to the right person – whatever meetings, systems, planning, implementation, processes are needed – that is easily worth $1,000 an hour. Because if the system is in place, it will systematically not happen.
There's a version of this for everyone. That's why Perry has a big chart in his book that shows $10, $100-an-hour, $1,000-an-hour, $10,000-an-hour tasks. And even if you're only making $1,000 an hour for four minutes, he says, it's a very, very big deal, because you recognize it, and then you're smart.
An irresistible product that's a joy to use
Step four is, create an irresistible product that's a joy to use by simplifying.
For James, that manifested in things like improving his onboarding process, segmenting people by the challenge they're having, and only showing them the solutions that they look for. He got an app as well for his website, which was a tremendous change, and improved retention by a massive factor.
In Perry's book, he tells the story of Mark McShurley of Roofsimple. A roofing company, Roofsimple went from $600,000 a year to over $10 million a year in about four and a half years. What did they do?
Mark took a ruthless eye to every single step that happens when somebody wants to buy a roof. What happens when my salesmen go out and sell a roofing job? What happens at the roofing job?
He said, "I am going to smooth and polish every speed bump out of the process of buying a roof that I possibly can. And I'm going to make it such a pleasure to have a roof bought and installed that when we get done, and we shake hands, and I ask for the check, that when I say, 'Could you also write a Google review?' and I hand them an iPad, they're like, 'Absolutely, yeah. I'll write you a Google review.'"
Roofsimple, a Washington DC roofing company that was at $600,000 five years ago, now has 4.8 stars and 300 reviews on Google. What happens when they go to Philadelphia? They're going to have 300 reviews. What happens when they go to Cleveland? They're going to have 400 reviews. And Mark McShurley did it with roofing. There is no service, no product that you can't rethink by asking, "How do we shave steps off of this thing?"
Taking a page out of Koch's book
Step five is using the Star Principle. Richard Koch in his book, Star Principle, asserts that top growing companies grow faster than other companies. He also says that if you're number one in a growing market, you'll make more money than everybody else in the market put together.
"If you're number one in a growing market, you'll make more money than everybody else in the market put together."
CLICK TO TWEET
This, says Perry, applies to not only your entire business, but it applies to individual product lines, it applies to clients, it applies to sub niches that you're in. It applies to things like Google ads and Facebook ads. It's one of the most powerful things, which is why it made the list.
It's basically, who are the four percent of players that are going to make 64 percent of the profits?
It works particularly well with investments, adds James, which this year, if you've been paying attention, you could have done particularly well.
Make your business impenetrable
Step six, build an impenetrable moat around your business.
Hopefully, says Perry, everybody's at least heard of network effect, which is when Uber gets more riders, which gets more drivers, which lowers the wait time, which gets more riders, which gets more drivers, and so on, and so on. What he talks about in Detox, Declutter, Dominate is network effect for mere mortals, which is, you don't have to be Tesla.
You can be a roofing company, and you can still build network effect moats around your business, which don't look like much until they're actually dug. And then you have a definitive advantage. Then you can dig another moat and another moat, and be seriously immune from competition. Like 300 Google reviews, if your competitor has three.
/>
You need this kind of freedom
Step seven, the last one, is to enjoy freedom to create and reinvent every single day.
There's two kinds of Renaissance Time, says Perry. There's the reflective Renaissance Time, which is your morning time. But there's another kind, that's exploration. The really short version for the workaholics is this – you need to have recreation. If you don't have recreation in your life, you're screwing up.
And your recreation needs to be just as stimulating as your work. If you're a hard-driving, creative, type-A, make-it-happen person, you're not going to enjoy Scrabble or lounging with a book. James, for instance, lives for surfing.
Recreation is almost the first thing James prescribes for most of the people he coaches. What is the point of all this work? he asks. Where does it get you at the end of time, with no relationship with your kids? So you've got a fantastic business, and you're the man. What else is in your life from that?
Life, Perry says, can be so much more enjoyable when your recreation feeds your creativity, which gives you enjoyment, which then feeds your business, which enables you to have more recreation. It becomes a virtuous circle, and you suddenly find you're a lot more successful than everybody else, and you're having more fun.
One of the signs, he adds, that you've got your recreation dialed in is that you start to realize it's a metaphor for all the other serious things you're trying to do in your life. You start seeing your family dynamics or your business dynamics in your surfing, for instance.
And that metaphor starts circulating, and life is just so much more enjoyable. And you really just have to trust the process that if you keep the creative engines fed, and you don't starve them in favor of more work that it's eventually going to come back around, and it's going to nourish you.
Discover more about the seven steps in Perry's book, Detox, Declutter, Dominate: How to Excel by Elimination, by Perry Marshall and Robert Skrob.
Access resources and support to optimize your business inside JamesSchramko membership
Enjoyed the show? Leave us a review on iTunes
Grab your
FREE copy of Work Less, Make More
! James went from working a full-time job to running a profitable business, having the freedom to travel, surf and spend time with family, and in his book you will find everything you need to know about how you can actualize the life you want, so you too can finally work less, and make more!